Level Hair and Beauty's experienced and qualified stylists are trained by industry experts. The salon is GHD accredited and is a stockist of Toni and Guy's 'Label.m' professional hair care products.
Specialist hair services
Flip-in Hair
ONE MINUTE TO FIT, ONE SECOND TO REMOVE
Damage-free reversible hair extensions, 100% human hair in a range of more than thirty colours. Perfect for clients with thinning or damaged hair.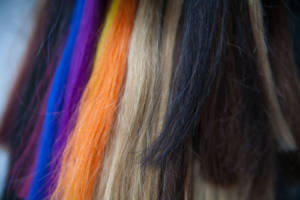 Creating that sensational style is quick and simple with our fabulous Flip-In Hair. Adding length and volume with Flip-In Hair will allow you to change your appearance in a matter of minutes.
12 inch Flip-In Hair extensions……………………………… £139.99
16 inch Flip-In Hair extensions……………………………… £169.99
20 inch Flip-In Hair extensions……………………………… £199.99
Flip -In Hair is also available in a variety of shades which can be customised to your own personal requirements. Full information is available in our free leaflet. We also stock Halo hair extensions.
MyNewHair

Level Hair and Beauty is proud to be associated with the Trevor Sorbie inspired MyNewHair, for clients experiencing partial or total hair loss due to chemotherapy, alopecia or other medical conditions. Appointments can be made for consultation in our private MyNewHair room. Level carries a stock of wigs for clients to experience.